ISEG Spring School 2014
30/04/2014 01:21:27
SEMINAR IN DEVELOPMENT STUDIES
(SPRING SCHOOL 2014)
5th May to 29th May
"Emerging Global Players in International Relations"
Daniel Bach
Directeur de Recherche CNRS/Centre Emilie Durkheim/Professeur Sciences Po-U. Bordeaux
This course is designed primarily for students of the Master in International Cooperation and Development (MDCI) and PhD in Development Studies (DED), which often translates into curricular value. The seminar also welcomes in free regime, the students of the Master in International Economics and European Studies (MEIEE) and is also offered as a Spring school to outside participation and teachers / researchers ISEG.
Seminar in Development Studies 2014 is organized by the Department of Economics at ISEG, in conjunction with the Center for Studies Asia Africa and Latin America (CESA) ISEG, and still closely with DED, MDCI and MEIEE.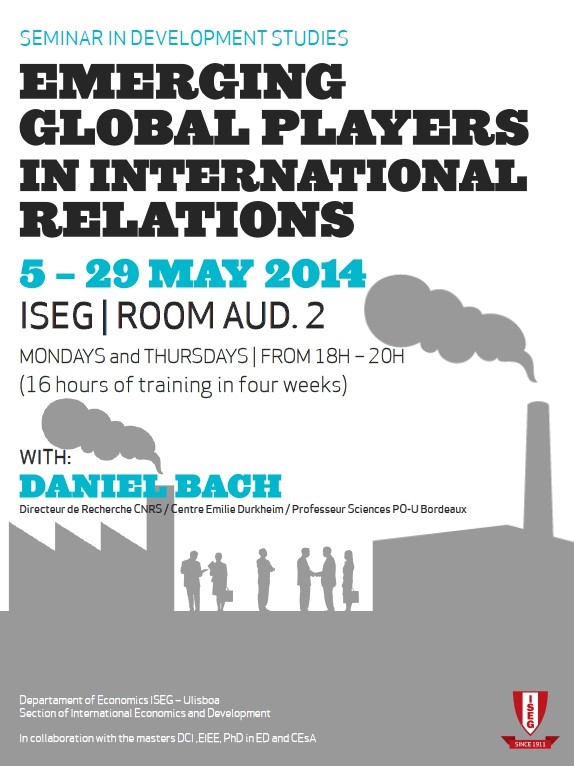 Programme
The lectures focus on the rise of emerging global players (the BRICs) within the international system. The course will be divided into three distinct modules. The first module (week 1 & 2, 8 hours) will discuss new understandings of their interactions with their regional and global environments, the rise of multipolarity and the end of the equation between globalisation and 'Americanisation'. The lectures will also analyse the emerging powers' aspirations to a global role through membership of global governance institutions, coalition-building and a new assertiveness within multilateral organisations. The leadership performance of emerging powers will also be assessed in conjunction with the serious gap between aspirations and achievements. The second module (week 3, 4 hours) will focus on the foreign policy of India, while the last module (week 4, 4 hours) will concentrate on China. Special attention will be paid to relations and interactions with Africa. Each of the modules may be followed separately.
More information here.
Source: ISEG - Lisboa School of Economics and Management
OTHERS